Leading change through
employee empowerment
Giving team members autonomy and opportunities fuels creativity, and extending goodwill to communities generates positive change.
After Hurricane Harvey hit the Texas coast in August 2017, it was downgraded to a tropical storm, but for days on end it inundated Houston with 33 trillion gallons of water—more than a year's worth of rain in less than a week. At the 1,200-room Hilton Americas–Houston, general manager Jacques D'Rovencourt worried that not enough staff would commit to working through the storm while risking days away from their families, so when employees asked to stay at the hotel along with their families and even pets—housebroken or not—D'Rovencourt and his executive committee didn't hesitate to OK the plan, even before seeking the necessary approvals.
Of the 600-person staff, one in three volunteered to stay, with spouses and kids pitching in. The hotel offered free meals to Team Members (Hilton employees), their families, and Houston police officers, who set up a command center at the hotel. (Other area hotels refused to let police or rescue personnel use their restrooms.) The hotel even cooked food for 10,000 displaced Houstonians who filled the convention center across the street. "It was good to be there to take care of people," says chef Ruffy Sulaiman, who oversaw 3,000 meals a night.
The hotel's response during Harvey demonstrates the creativity and remarkable achievement that can result when employees are engaged, challenged, and respected, which reflects Hilton's overall commitment to its Team Members. "We have a team of 400,000 and growing who really have pride in what they do and amazing passion for what they do," says Hilton president and CEO Chris Nassetta. "They know that their contribution means something."
Empowering and engaging employees is in Hilton's DNA, says Chip Heath, a New York Times bestselling author and professor at the Stanford Graduate School of Business. "Conrad Hilton was never known as a "look-over-your-shoulder manager," says Heath. "You want to hire good people, then let them get on with things. By advocating autonomy over standardized guidelines, the company enables intrinsic motivation."
Empowering and engaging employees is in Hilton's DNA.
In anticipation of its 100th anniversary next year, Hilton asked Heath and co-author Karla Starr to delve into the company's history and prepare a white paper about what they call the Hilton Effect—the company's impact on employees, travelers, and communities. Crucial to the Hilton Effect, and a source of creativity and innovation throughout the company, is the commitment to providing Team Members with challenging opportunities and rewarding their growth. For example, India-native Mo Khan, who started his 30-year career at the Hilton Americas–Houston as an assistant chief engineer and is now director of property operations, has saved the hotel at least $1 million by implementing ingenious waste-eliminating improvements to its water and power systems.
As the hotel demonstrated during Hurricane Harvey, Hilton's commitment to its Team Members is equaled by its commitment to the communities it serves.
In Argentina, a Hilton hotel helped transform one of the most derelict neighborhoods in Buenos Aires into one of the wealthiest. The Puerto Madero neighborhood grew up around docks constructed in 1897 on the shore of the Rio de la Plata (river) running through the city. But when they became obsolete, the area, though just a quarter-mile from the Presidential Palace, grew desolate; garbage and graffiti reigned. In 1989, the city and federal governments agreed to revitalize the neighborhood, and a local developer purchased some land, asking Hilton to build a hotel and make plans for a gala there on Dec. 31, 1999, to welcome the new millennium.
Almost immediately after Hilton bucked prevailing wisdom and agreed to build in a blighted area, the economy went south. Companies involved with the project were bankrupted and the developer followed. But Hilton didn't abandon its commitment. The Hilton Buenos Aires— which did host that New Year's Eve bash—became the first commercial building in Puerto Madero to open in 2000. Even as the economy worsened, sparking riots nearby, businesses eventually started developing properties in the area. Today, Puerto Madero is a thriving district with waterside promenades and is home to some of Buenos Aires' most exclusive addresses.
Hilton's strong responsibility to its communities is also evident at the Hilton Cleveland Downtown, which set unusual hiring policies before its opening in 2016: First, preference would be given to locals, even over outsiders with more hospitality experience; second, the Cleveland-based nonprofit Towards Employment—which is devoted to helping struggling individuals find work—would supply many of those hires.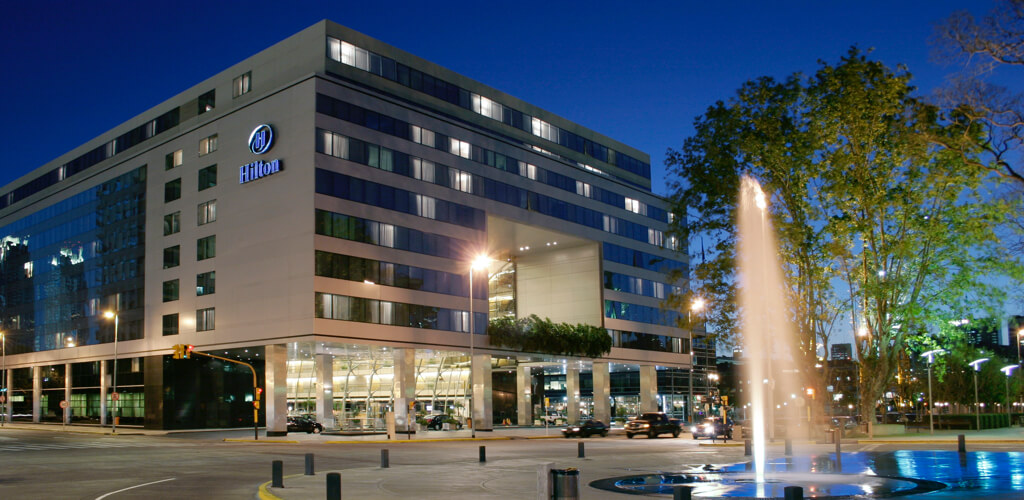 Some businesses might consider that hiring approach risky. It's true that the hotel had to spend more time and money training Team Members than it normally would. But the hotel's general manager, Teri Agosta, believes it's been a smart move. "We have found that, once we give people a second chance, they are grateful. Their work ethic and productivity is so much higher," says Agosta. The enthusiasm they bring to their jobs "is heartwarming. It is contagious." The company's commitment to its Team Members is returned in kind, bringing warmth and authenticity to the property that in turn enhances the guest experience.
And there is no question about the impact on the individuals, adds Agosta. Many of the new Team Members were homeless before coming to work at Hilton. They no longer are. "We are absolutely changing lives. That's what we do."
In York, Pa., Hilton's sense of community responsibility is playing out in a different, though just as meaningful, way. The Rust Belt town of 40,000 was once the home of the Pullman motorcar, a line of luxury cars that predated the Model-T. In 1925, the grand Yorktowne hotel opened and immediately became a York icon. But York's population peaked in 1950, and its economy had begun a persistent downward trend even before that. Eventually, the Yorktowne Hotel closed and the fortunes of York continued to languish.
In the last few years, however, small urban revitalization efforts have begun transforming parts of downtown. Breweries and restaurants have been proliferating, along with art galleries and cafés. There's even a bike-share program. Yet the Yorktowne Hotel, after all these years, remained vacant. "It's the large, unused buildings that pose the biggest challenge to urban revitalization," explains Heath, especially in small communities that have lower profitability ceilings. "It can be hard for outside companies to invest when a huge unknown variable sits nearby, since today's large, vacant buildings can easily become next year's graffiti haven."
Nevertheless, Hilton took the plunge. In May of this year, the York County Industrial Development Authority announced that the property would reopen as part of Hilton's Tapestry Collection. The focal point of the community would once again thrive where the Yorktowne Hotel once played that role, accelerating the town's transformation. Spending on the renovation alone will pour $30 million into York's economy. And Hilton has gone even further in its efforts to benefit the town, by creating a relationship with York College's hospitality school.
"The Hilton Effect for me is the positive impact that we've had on the world, the opportunities that Team Members have had to contribute to the environment of the people around them," says Nassetta. "I think the world is a better place because Hilton was born into it 100 years ago. And if we continue to do our job, the world will be a better place because Hilton is in it for the next 100 years."