Transformative cross–cultural power, with comfort to spare
International Hiltons—made up of 14 different brands— celebrate cultures, offer familiar comforts, and become community focal points for locals and visitors alike.
In June 1955, two Pan Am jets dubbed "The Flying Carpet" and "The Magic Carpet" touched down in Istanbul, Turkey, and deposited a bevy of American celebrities, who were greeted by thousands of Turks. The luminaries then headed to the Istanbul Hilton for a grand-opening extravaganza that would last five days.
"The time is not too far distant when a traveler, circling the globe, will be able to stop at a Hilton hotel in almost any world city he may visit," Conrad Hilton told attendees. With a vision that transcended capitalism and promotion, he spoke of Hilton hotels becoming focal points of communities and facilitators of "the exchange of knowledge between millions of people, citizens and visitors alike."
The Istanbul Hilton immediately became the gathering place in the city, where major life events like weddings were celebrated and people would meet for coffee, a highly significant Turkish ritual of friendship. As it bridged cultures, the hotel established itself as a community hub, embraced the unique personality of the local culture without sacrificing American comforts, and became a global template for success. Now Hilton properties in more than 100 countries and territories worldwide carry on that tradition, today and into the future.
"The trick of travel is that it expands our view of the world while at the same time drawing us closer to diverse people," says Christopher J. Nassetta, Hilton's president and chief executive officer. "We inspire our guests to explore, dream, reunite with loved ones, take action, connect with cultures, do things they never thought they would do—changing their world and ours."
The trick of travel is that it expands our view of the world while at the same time drawing us closer to diverse people.
Next year, Hilton turns 100 years old. As part of its celebration, the company asked Chip Heath, a New York Times bestselling author and professor at the Stanford Graduate School of Business, and author Karla Starr to research the company's history and explore in a white paper the impact the company has had on travelers, its employees, and communities, which Heath defines collectively as the Hilton Effect. "Conrad believed a hotel should be a place where people can come together and surmount cultural barriers," he says. While the London Hilton was "American at the core, it was designed to create a cultural mélange, a place for guests of all backgrounds to feel welcome."
Brits were not initially keen on Conrad Hilton's plans to build a hotel overlooking Hyde Park; even Buckingham Palace lodged concerns that guests on the skyscraper's upper floors might be able to peek into the Queen's royal gardens. When it finally opened in 1963, it was—in American style—the tallest building in London and largest postwar hotel in Europe. But Britannia was on full display in 1964, when Goldfinger was a box-office smash, and the hotel transformed one of its five bars into the 007 Night Spot, furnished with props from the movie and serving up martinis—shaken, not stirred, of course. Escorting guests to the bar was the Japanese-American actor Harold Sakata, who played Oddjob, Goldfinger's henchman, in costume. In fact, cultures all the world over were celebrated every day at the hotel's International Restaurant, which featured an ever-changing mix of music, cuisines, and decor. In spite of Londoners' initial resistance, the London Hilton almost immediately became an icon in the city, as had the Istanbul Hilton—which inspired another James Bond film.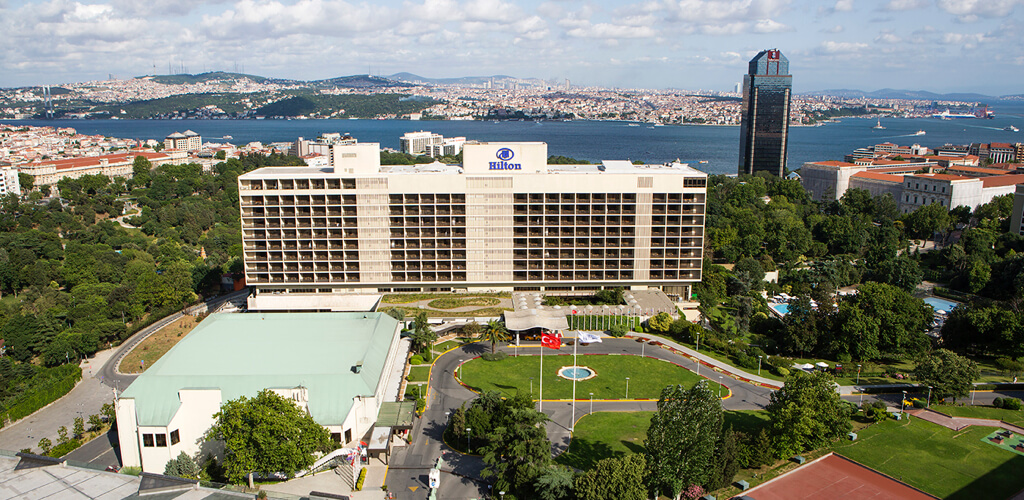 It is much the same in Nigeria, where the Transcorp Hilton Abuja is not only an icon but also a pioneer in every sense of the word. The government began planning to move its capital from Lagos to the undeveloped province of Abuja in 1991 and, eager to host heads of state, asked Hilton to erect the remote area's first international hotel—even before the local infrastructure was in place. So Hilton built a woodworking factory in a neighboring village, created its own sewage plant, brought in generators, and drew up plans for 50 presidential suites for the expected VIP clientele.
The hotel was still a year from completion when the Nigerian government requested use of the hotel for two weeks to host the Economic Community of West African States summit, set to take place in just two months. Hilton personnel flew in and convened at the hotel, still a construction site, from all over the world; local villagers were hurriedly hired and trained; everything from marble to mattresses was procured; and a five-star property was ready on time to host the summit's 800 guests. In July 2017, the hotel celebrated its 30th anniversary, when it was officially hailed as a national icon. Today, it continues to nourish its relationship with the community, participating in programs like the Business Empowerment Program for Women with ACE Charity, which helps local women create their own companies. And this is just the beginning. With a commitment to open 100 new hotels by 2022 through the Hilton Africa Growth Initiative, Hilton will continue to lead the way in creating new travel frontiers across Africa.
Today, you can find iconic Hilton hotels throughout Europe, Africa, and the Middle East, including the Waldorf Astoria Amsterdam, which opened in 2014 and boasts a stunning blend of culture, history, and modernity. It's composed of six formerly deserted 17th-century canal palaces and features a Louis XIV staircase. Cocktails in the lounge reflect tastes of India. And staff uniforms, with fabric picturing a 17thcentury map of the neighborhood, were created by a designer whose couture has been worn by Beyoncé and Lady Gaga.
"In a time that seems characterized by so much anxiety and discord, the unifying power of travel has never been needed more than it is today," says Nassetta, who notes that Hilton will open hundreds of hotels across 50 countries and territories in its anniversary year alone. "Every day, we challenge ourselves to honor the pioneering spirit that our founder infused in his creation of the world's first global hospitality company."